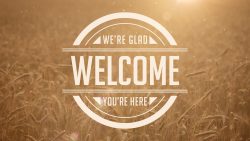 Worship for October 17, 2021
October 17, 2021
Mark 10: 35-45
35 Then James and John, the sons of Zebedee, came to him. "Teacher," they said, "we want you to do for us whatever we ask."
36 "What do you want me to do for you?" he asked.
37 They replied, "Let one of us sit at your right and the other at your left in your glory."
38 "You don't know what you are asking," Jesus said. "Can you drink the cup I drink or be baptized with the baptism I am baptized with?"
39 "We can," they answered.
Jesus said to them, "You will drink the cup I drink and be baptized with the baptism I am baptized with, 40 but to sit at my right or left is not for me to grant. These places belong to those for whom they have been prepared."
41 When the ten heard about this, they became indignant with James and John. 42 Jesus called them together and said, "You know that those who are regarded as rulers of the Gentiles lord it over them, and their high officials exercise authority over them. 43 Not so with you. Instead, whoever wants to become great among you must be your servant, 44 and whoever wants to be first must be slave of all. 45 For even the Son of Man did not come to be served, but to serve, and to give his life as a ransom for many."
Psalm 104: 1-9, 24, 35c
Praise the Lord, my soul.
Lord my God, you are very great;
you are clothed with splendor and majesty.
2 The Lord wraps himself in light as with a garment;
he stretches out the heavens like a tent
3     and lays the beams of his upper chambers on their waters.
He makes the clouds his chariot
and rides on the wings of the wind.
4 He makes winds his messengers,
flames of fire his servants.
5 He set the earth on its foundations;
it can never be moved.
6 You covered it with the watery depths as with a garment;
the waters stood above the mountains.
7 But at your rebuke the waters fled,
at the sound of your thunder they took to flight;
8 they flowed over the mountains,
they went down into the valleys,
to the place you assigned for them.
9 You set a boundary they cannot cross;
never again will they cover the earth.
24 How many are your works, Lord!
In wisdom you made them all;
the earth is full of your creatures.
35c Praise the Lord!
Live stream at 10:00 a.m.