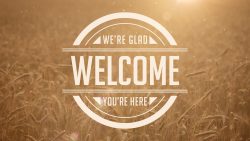 Worship Service for August 8, 2021
August 8, 2021
Sermon. August 8, 2021
Rev. John Steitz
What is faith? How are we to understand what faith means? According to the biblical scholar, Marcus Borg, there are four different meanings of faith. These are Trust, Faithfulness, Vision, and Assent. 
Trust is about a radical trust in God. This does not mean trusting in a set of statements about God. That is assent in a different name. It means trusting in God. 
God is the One in whom we rely, our safe place. As trust grows our anxiety diminishes.  Think of an infant trusting her mother. A radical, basic trust. An infant's trust in their caregiver – parent is not a statement of faith, it is a radical, yet simple act of trust. 
Faithfulness is about fidelity. Faith is faithfulness to our relationships with God. 
Faith as fidelity means loyalty, allegiance, our commitment at its deepest level of ourselves, and the commitment of the heart. The Great Commandment to love God with all of our heart, soul, mind, and strength is faith as fidelity.  
Vision is faith as a way of seeing. Faith is a way of seeing the whole, a way of seeing "what is."  
In the Lord's Prayer Jesus asserts that the Kingdom of God has come on Earth as it is in heaven – "thy kingdom come, on Earth as it is in heaven." This coming of God's reign on Earth is both already happening through Jesus and still to come in the future. As such this is faith as vision. 
Assent is faith as belief. This is giving one's assent to a proposition. Assent is believing that a claim or statement is true.  
Assent is sometimes called a propositional understanding of faith. This is the dominant meaning of faith today, both within the church and outside of it. 
Jesus is well versed in the texts of the Hebrew Bible. So are those who are Jesus' opponents, and those who complain about his preaching. Such as in the Gospel lesson today. 
Jesus' ministry and teaching challenges the propositional faith of many faithful Jews in his times. His interpretation conflicts with their understanding of the meaning of scripture. 
We have people raised in the Jewish faith and faithful to God holding differing opinions about the meaning of scripture. One of these faithful Jews is Jesus. 
Now some Christians take the theological perspective that whenever there is a conflict of interpretation, Jesus' proposition or interpretation supersedes any other interpretation. In this view the New Testament supersedes the Old Testament. The very naming of the Hebrew Bible as an "old testament" reinforces this theological perspective. 
Often however Jesus doesn't so much offer a new proposition or interpretation as much as offer a differing viewpoint on faith. Rather than give a new proposition Jesus offers a vision – a new way of seeing, or a renewed commitment to radical trust in God, or a deep fidelity to being in a faithful relationship with God. 
All four meanings of faith – trust, fidelity, vision, and proposition – are valuable and worthwhile. We can enrich our understanding of a text such as the Gospel lesson at hand by seeing this through multiple meanings of faith. 
Jesus declares that he is the bread of life. Also, that no one can come to him unless drawn by God.  
Taken as a propositional statement this becomes a doctrine to believe or to refute. I'm not suggesting that belief in Jesus as the bread of life is wrong. This is a basic Christian doctrine.  What I am saying is that we shouldn't leave it there as solely a propositional statement to assent to. 
Viewing this from additional lens of faith meanings enriches our understanding and enriches our faith. Take for example where the text states "No one can come to me unless drawn by the Father who sent me." 
On the surface this might seem like a very exclusionary text. Some will be drawn to Jesus and some will not be.  However, remember that John's Gospel asserts that Jesus is sent because of God's love for the world. "For God so loved the world that he gave his only Son, so that everyone who believes in him may not perish but may have eternal life" (John 3:16).  
Recall too that 1 John 4:16 tells us that "God is love, and those who abide in love abide in God, and God abides in them."  
God is love and we give our radical trust to God in love.  A loving God is an inclusive God, not an exclusive deity. 
God is love and God's love for us allows us to love God with our whole selves.  God is love and God's love allows us to love one another and to love our neighbors as ourselves.  
The proposition that "no one can come to me unless drawn by the Father who sent me" (John 6:44) is true and doctrinally sound.  We interpret and understand being drawn by God through God's love. In fact, through the proposition that God is love. 
No one can come to Jesus and faith in Jesus without being drawn by the Creative Love Force that sent Jesus. God, understood as the Creative Love Force that creates, redeems, and sustains all that is draws us to faith. Draws us to Jesus and to believing I him.  
God is Love.  God is Love so loves the world that Jesus is sent by God in love.  Those who believe in Jesus will not perish, but will have eternal life. God, as the Creative Love Force draws us to Jesus and to faith.  
When we consider the various meanings of faith – trust, fidelity, vision, as well as proposition we gain an enriched understanding of the Gospels and what means to believe in Jesus and to be his disciple.