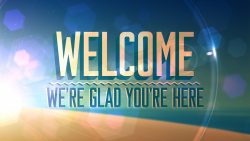 Worship Service for July 4, 2021
July 4, 2021
Sermon. July 4, 2021
Rev. John Steitz
This is a great Sunday to talk about mission.  The Gospel lesson shares two stories about mission.  First, there is Jesus' failed mission to his hometown.  The resistance there is so strong that he is rendered unable to perform deeds of power, except for curing a few sick people. 
The second story is the sending of the Twelve on a community engagement mission.  The community being the villages surrounding Jesus' hometown. Jesus sends the Twelve in six teams of two each, giving them authority over unclean spirits. He also gives them very specific instructions about what to take with them. Take nothing except a staff. 
Without bread and money each team will need to rely on the hospitality of strangers welcoming them into their homes. Where they are welcomed thy are to stay until it is time to move to another village. Where they are not welcomed they are to wipe the dust from their feet. 
By making each team of Apostles so forth taking nothing except a staff Jesus is showing that what is important is not the resources they might have to take with them.  
What is important is that they work together as a team, and that they engage the people in the community they go to.  The Early Church is built on these two simple points. Small teams working together. Engaging people in each community that they go. 
Last week was Pride Sunday and this Sunday, July 4th, is our first in-person worship service since the pandemic was declared in March 2020. It is really wonderful to be able to gather together again in person! 
The first Sunday in March 2020 we held a congregational gathering to move forward together on a community engagement mission. We decided to focus our community engagement efforts initially on expanding our outreach as an Open and Affirming faith community. 
Just two weeks later we were forced to go into the pandemic lockdown. Thankfully, there where people so committed to the mission that the Open and Affirming work went forward online.  I especially extend a huge thank you to Brad, Jason, and Katie for making this happen, and to everyone who attended the online ONA forums this past year. 
Now here is the thing about community engagement. It's sort of obvious but needs to be said. In order for community engagement to work you have to be willing and able to engage the people in the community.  
We really haven't been able to do this for the past 15 or so months. But now we can. Now we can do the work of community engagement that we hoped to do back in March 2020. 
The plans for an ONA Pride Night for youth first shared more than a year ago will finally happen this fall. Our community engagement mission to expand our Open and Affirming outreach will have one focus on LGBTQ+ youth and allies. 
Jesus sent the Twelve into community engagement mission with nothing except a staff. Rather than rely on whatever things they could carry they needed to bring their authentic selves. Likewise, we will bring our authentic selves to our community engagement mission. 
We will also reach out to LGBTQ+ adults and allies in our community. One way we will do this is through the #RainbowMondays campaign. 
Now that we are able to gather together in-person again we can take steps to build this campaign. 
Today, many of us who are able to gather for worship together in-person are just happy to be able to see one another. We are not thinking about community engagement.  We are thinking about friendship engagement with those friends we haven't seen in far too long.   
When the pandemic began last year my family started holding Facebook chats every other day. We are still doing this.  But it has been really important to be able to visit my parents several times since I became fully vaccinated. 
Likewise, my friend Scott Hutchinson, who just retired as a UCC pastor in April have been able to get together a couple of times in the past two months.  
I share this because I know how important it is for many or all of us to be able to see one another in person. Churches that are strong on Loving One Another are able to places that Love our Neighbors. Being a Loving Church Family grounds our ability to do Neighborhood or Community Engagement. 
Across the past 26 years I have severed at 15 congregations. I am deeply grateful that this congregation is the faith community I journeyed with through the pandemic.  
Now I am excited to be back in Norwich with you, enthusiastic and charged up to go out in community engagement mission with you. 
May God bless our coming back together in person. May the Holy Spirit guide our going out in mission.  Amen.